Home :: Object & Attractive Tour/Tourism/Kalimas Traditional Harbour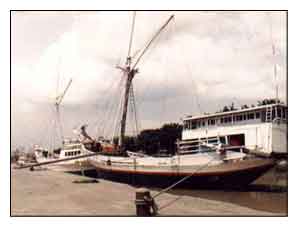 Kalimas Traditional Harbour

On May 31st 1293 Raden Wijaya succeded in destroying Tar-Tar under the lead of Khubilai Khan. Tar-Tar left Majapahit from Ujung Galuh, a village at the north side of Surabaya. This village was around the river and due to the legend, there was a big fight between the fish named SURA and crocodile named BAYA. That's why then it's called SURABAYA. At the sides of Kalimas river, up till to day was used by the boat and tongkang as a traditional harbour. This harbour has a vast parking area.
Notes :
Back To List ...