Home :: Object & Attractive Tour/Grave/Ki Ageng Bungkul Graveyard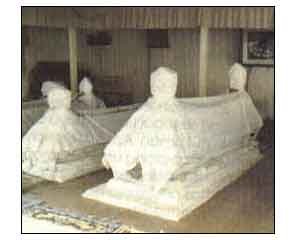 Ki Ageng Bungkul Graveyard

Is lies on Taman Bungkul, Progo street in Central Surabaya area. Ki Ageng Bungkul was a relative of Majapahit kingdom who had a very high traditional magic. He was Sunan Giri's father in law and often consult with Sunan Ampel about Islam, so then he became moslem. Ki Ageng Bungkul's real name was Ki Supa a keris made expert from Tuban. Some day he was asked to make a good keris by king Brawijaya from Majapahit, but the king wasn't pleased and then Ki Supa went back home. On the way home he was interested on Bungkul place, then he stayed there until his death. many people who had come to Sunan Giri cemetery, passed by the Ki Ageng Bungkul graveyard..
Notes :
Back To List ...