Home :: Calendar Event/Pegon Wedding Festival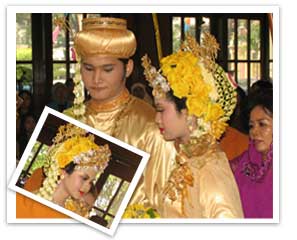 Pegon Wedding Festival
A masterpiece was born from combination of ethnic culture in Surabaya with a couple Pegon wedding. You will see the different of make up and dressing that used by Pegon Wedding with Java's wedding tradition or other. This uniquely make the Surabaya's wedding tradition as known "Manten Pegon," pluralism of culture on every single their make up and dressing as in expression harmony and doing their tradition and ethics culture.
For the example; long dress and surban (heat) that use by groom from Arabic culture. Bride use with a lot of unique Java's culture such as; Sanggul (like wig), roncean Melati, and crown (Jamang). Dutch and Chinese's culture also used for long dress, slayer with silk. More interesting are when beginning Manten Pegon's reception shown with Hadrah music that originally tradition from Surabaya. Tabuhan terbang and Jedor surroundings lyrics with Islam culture by the singer.
Held on February 21, 2007 at culture centre Surabaya youth convention hall (Gedung Balai Pemuda).
Back To List ...