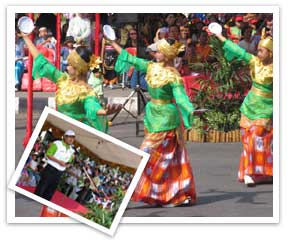 Surabaya Culture Parade
The festival Surabaya Culture Parade held for begin celebrate 713 anniversary of Surabaya, that shown Surabaya's culture with performing various arts. The expression of happiness for city anniversary. This festival call with "Arak-arakan" that held on 30 April 2006 and over May until June you will see various performing arts and culture, also another fantastic events.

The Marching band from AAL will be opening this parade. The start from Tugu Pahlawan until Balai Kota (Taman Surya). Traditional cultures from parts of district Surabaya show in this parade. Such as; Arab Town cultures that shown "Tari Jaffin". The rhythm and melody dancing unity with dynamic dancers. China Town with Baraongsai dancing. Traditional ceremony also shown in this parade. The moment fully color and unique from Surabaya cultures.

Location: Jl. Pahlawan - Kramat Gantung - Gemblongan - Tunjungan - Gubernuran.

Schedule: Mei 2007
Time: 13.00-Selesai WIB.